Samsung delegates visited us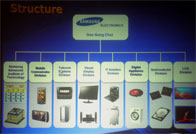 On Wednesday, 08.12.2010, a small delegation from Samsung visited us. Mihail Rychagov prepared a presentation on company's recent developments. His presentation began with a brief historical introduction. For example, in 1938 (when Samsung was founded) by 1969 the company was engaged in trading different goods not including electronics.
   Speaking of the patent database, Mr. Rychagov told about enterprising employees, who worked on it at the time when the Korean company was entering the world market. The main activities of Samsung Russia, as well as the company's interest in cooperation with research centers was mentioned. It has been repeatedly emphasized a great interest in the company to conduct their research with the support of small research centers like ours.